FIAF (French Institute French Alliance)
7 N Willow Street. Montclair, New Jersey
November 8, 2019-January 16, 2020
Elements Massage
496 Bloomfield Avenue. Montclair, New Jersey
January 2016-March 2016
Johnson & Johnson in New Brunswick, New Jersey
Feb. 6 through March 31, 2016
Morris County Library
Collective exhibition with the MSHAC association
September 29 - October 29, 2015
Reception & Awards: Wednesday, October 21 from 6:30-8pm
Art Walk Montclair Fall 2015
October 16, 2015 from 5-9 pm
Elements Massage
496 Bloomfield Avenue
Montclair, NJ 07042
"Generations Revisited"
December 2-January 20, 2015
Group exhibition with the MSHAC of New Jersey at the MPAC (Community Theater), Morristown, New Jersey
Reception: December 12, 2014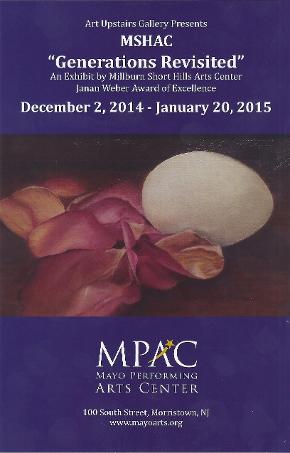 May 1-May 30, 2014
Private Solo Exhibition
Paramus, New Jersey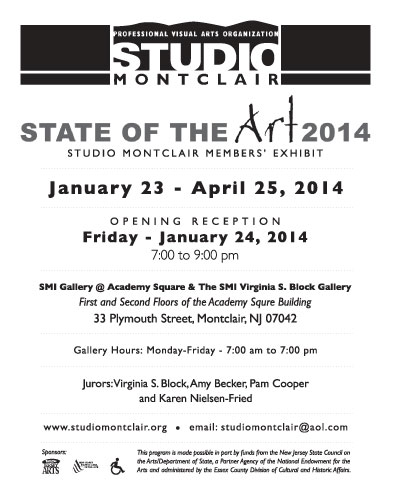 EXHIBITIONS/ GROUP SHOWS
State of the Art 2014. Studio Montclair Member's Exhibit
January 23 to April 25
Reception: January 24 from 7 to 9 pm
33 Plymouth Street. Montclair, New Jersey

33RD ANNUAL MOUNTAIN ART SHOW
OCTOBER 19-OCTOBER 27, 2013
JURORS: ERIC LOPRESTI/ JEFFREY TEUTON
ST. JOHN ON THE MOUNTAIN CHURCH
379 Mountain Harmony Road
Bernardsville, New Jersey 07924

NAILS IN THE WALLS
Exhibit "Spirituality of the Mandala: Reality in the Round".
September 21-December 31, 2013
St. Luke's Episcopal Church
17 Oak Avenue. Metuchen, New Jersey 08840

ALFA GALLERY
108 CHURCH ST., NEW BRUNSWICK, NEW JERSEY
Reception: July 13, 6 to 9 p.m.
Exhibit: July 1 to Aug. 15

SWAIN GALLERY
DuCret School of Art Show
703 WATCHUNG AVENUE. PLAINFIELD, NEW JERSEY
JULY 20- AUGUST 24, 2013
OPENING RECEPTION: JULY 20. 5-7 PM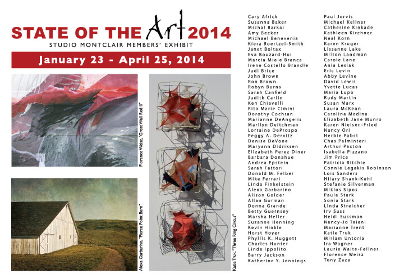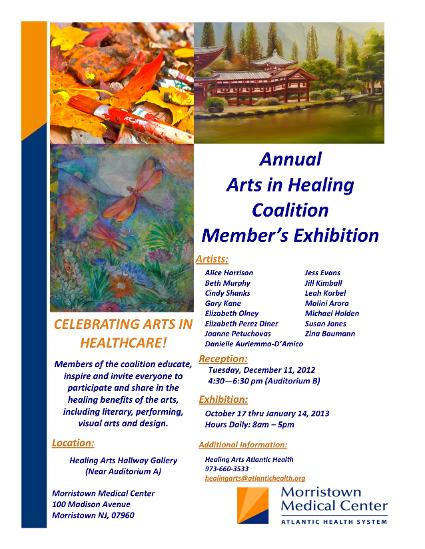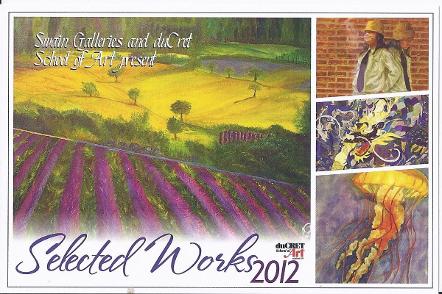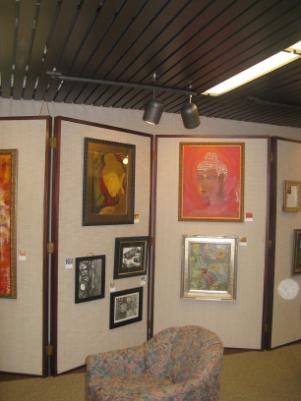 Most recent events:
Swain Galleries and duCret School of Art. Selected Works 2012. Post-card "Lavanda" by Elizabeth Perez Diner. Piece participating in exhibition: Organic Circle. July 14 through August 14, 2012
Cabaret May 30, 2012. To Benefit the Atlantic Health Healing Arts and Jeffrey F. Wacks Music Therapy Program. Miniature show.
The Art of Fashion (T.A.O.F) Empire Hotel. March 9, 2012
Peter Louis Gallery (NYC) February 23-March 23
Expo NY 2012. 75-07 31 Avenue. East Elmhurst, NY 11370.Steinhausen Gallery invites (March 24-25, 2012) from 10 am to 6 pm. This Expo is organized by Radio Caracol of Colombia, the Consulate of Colombia in NY. I will participate with one of my paintings represented by Steinhausen Gallery.
THE GRASSY NOEL GALLERY

. Teaneck, New Jersey. Reception: February 21, 2013
My solo exhibition "The Circle of Life" at the Atlantic Rehabilitation Center (Mount Kemble), Morristown, New Jersey opened on January 8 and will run until February 18, 2012 benefits the endeavor of the Women's Association of Morristown Medical Center, NJ. All the paintings on the exhibit are displayed on this website under Paintings and Paintings 2. If you are in the area, please come and stop by to check them out. If you live out of state, contact me to arrange delivery. Shipping is not included.
All the paintings are originals and one-of-a-kind pieces. They are beautifully framed as well. Hope you enjoy them!
You can purchase the paintings and take them the same day with you! Call (201) 323. 56 12 or email: alfrescomurals@gmail.com if you have any question.